Collier: Cam Kerfuffle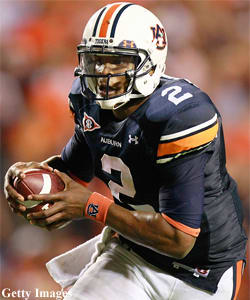 Well, that was an interesting evening, wasn't it?
There I was, wrapping up dinner at a sports bar before a Thrashers game, when Cam Newton's face popped up on every screen in the place. Approximately three seconds later, my iPhone exploded, hurling shrapnel halfway to Decatur.
Okay, I made the last part up. But I did get an awful lot of calls.
Multiple reports since the story broke indicate that Auburn has been fully aware of the Kenny Rogers allegations since early last summer, and I feel very safe in saying that if there were any chance of Auburn being implicated in any rule-breaking in this case, Cam Newton would never have put on a Tiger uniform this year. The guys in that office just would not take that kind of a chance-and not because they have any particular love for Auburn University. Sheer careerism on their parts would move them to declare Newton ineligible at the first sign of any potential violations.
When asked by the media about the allegations, SEC representative Greg Sankey characterized them as "rumor and innuendo." This sort of accusation pops up all the time in the wake of heated recruiting battles, and the conference and NCAA have to follow up as a matter of course. Unless an actual violation is uncovered, the public never hears about the back-and-forth charges. That is, unless somebody goes public.
In this case, the "somebodies" who went public are apparently Bond and embattled Florida coach Urban Meyer. According to reporting from Rivals.com's Jeffrey Lee, the Newton allegations bubbled up to the surface thanks to a recent phone conversation between Bond, Meyer and Mississippi State coach (and former Meyer assistant) Dan Mullen. Per Lee's account, Meyer was insistent that the charges should go public, while Mullen disagreed.
After canvassing people in a position to know, I think I'm safe in saying that nobody in an official position at Auburn is worried about violations or sanctions coming out of this story-although they are certifiably furious over the media uproar. The Bond allegations are not a surprise, and were settled as far as AU is concerned to the satisfaction of the SEC and NCAA months ago; if not for the apparent intercession of Urban Meyer and John Bond, they would have lived and died in the endless, Byzantine netherworld of underground SEC chatter. Now that they're public, though, people are going to suffer from them. Auburn is going to suffer through a round of catcalls from rivals and the press. Newton's Heisman campaign may well suffer from the innuendo, through no fault of his own. But I suspect the suffering won't end there.
Kenny Rogers is apparently broke, and thus judgment-proof. Urban Meyer and John Bond, on the other hand, are not.