Coates switches commitment to Auburn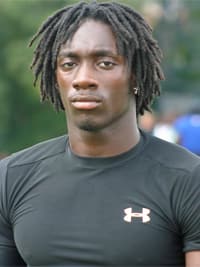 If Leroy (Ala.) wide receiver
Sammie Coates
had something to prove, he did it Saturday.
The 6-foot-3, 170-pound Coates was arguably the top offensive performer Saturday at Auburn's Senior Mini-Camp II. He was rewarded with an offer from the Tigers. The Tigers were quickly rewarded with a commitment from Coates.
Coates, who ran a 4.31-second 40-yard dash, twice, and had a 37-inch vertical leap, switched his commitment from Southern Miss to Auburn.
"I got an offer and committed," Coates said following camp. "It feels good. I'm going to go to Auburn and play with my former quarterback
Clint Moseley
."
Coates said he and Moseley, a quarterback at Auburn, have stayed in touch and even talked about Coates going to Auburn.
"He just told me I needed to get up here and that I'd love it," said Coates.
Coates said it didn't take him long to make his decision to commit to the Tigers. As soon as he learned of the offer, he accepted it.
"It is just like family at Auburn," he said. "It is awesome. I love it.
"I'm used to running the spread (offense). We've been running it since I was in ninth grade. I know all about it."
Coates had interest from Auburn before Saturday, but didn't think the Tigers would offer. He admitted he was a little surprised to hear when they did.
"They've been on me to come to a camp so I came and did well," he said. "It means so much to me."