Auburn releases 2021 baseball schedule
AUBURN | The 2021 season will get underway in four weeks and Auburn along with the entire SEC is on track to play a full 56-game schedule.
The Tigers will open the season Feb. 19 with a three-game series against Presbyterian at Plainsman Park. Auburn will host Alabama A&M for two midweek games before heading to Round Rock, Texas for a tournament featuring Oklahoma, Baylor and Texas A&M.
Other non-conference opponents include Jacksonville State, Xavier, Little Rock, UAB, South Alabama, Kennesaw State, Georgia Tech, Samford and North Alabama.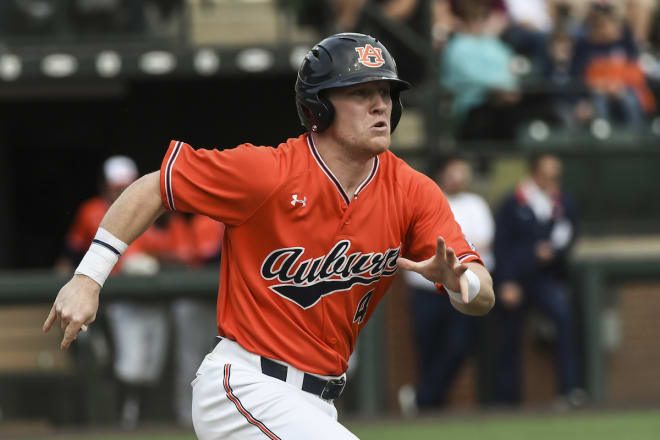 Conference play will begin March 19 with a three-game series at Ole Miss. Auburn will host Kentucky, Mississippi State, Florida, LSU and Texas A&M, and will play road series at Arkansas, Alabama, Georgia and Missouri.
The SEC Tournament is scheduled for May 25-30 at the Hoover Met.
AUBURN'S FULL 2021 SCHEDULE
FEB. 19 FRIDAY PRESBYTERIAN AUBURN 4 PM
FEB. 20 SATURDAY PRESBYTERIAN AUBURN 2 PM
FEB. 21 SUNDAY PRESBYTERIAN AUBURN 1 PM
FEB. 23 TUESDAY ALABAMA A&M AUBURN 4 PM
FEB. 24 WEDNESDAY ALABAMA AM AUBURN 4 PM
Feb. 26 Friday vs. Oklahoma$ Round Rock, TX 12 pm
Feb. 27 Saturday vs. Baylor$ Round Rock, TX 12 pm
Feb. 28 Sunday vs. Texas A&M$ Round Rock, TX 11 am
MAR. 2 TUESDAY JACKSONVILLE STATE AUBURN 4 PM
MAR. 5 FRIDAY XAVIER AUBURN 4 PM
MAR. 6 SATURDAY XAVIER (DH) AUBURN 2 PM
MAR. 7 SUNDAY XAVIER AUBURN 1 PM
Mar. 9 Tuesday at UAB^ Birmingham, AL TBA
MAR. 12 FRIDAY LITTLE ROCK AUBURN 4 PM
MAR. 13 SATURDAY LITTLE ROCK AUBURN 2 PM
MAR. 14 SUNDAY LITTLE ROCK AUBURN 1 PM
Mar. 19 Friday at Ole Miss* Oxford, MS 6:30 pm
Mar. 20 Saturday at Ole Miss* Oxford, MS 1:30 pm
Mar. 21 Sunday at Ole Miss* Oxford, MS 1:30 pm
Mar. 23 Tuesday vs. South Alabama# Montgomery, AL TBA
MAR. 26 FRIDAY KENTUCKY* AUBURN 6 PM
MAR. 27 SATURDAY KENTUCKY* AUBURN 2 PM
MAR. 28 SUNDAY KENTUCKY* AUBURN 1 PM
Apr. 1 Thursday at Arkansas* Fayetteville, AR 6:30 pm
Apr. 2 Friday at Arkansas* Fayetteville, AR 6:30 pm
Apr. 3 Saturday at Arkansas* Fayetteville, AR 2 pm
APR. 6 TUESDAY KENNESAW STATE AUBURN 6 PM
APR. 9 FRIDAY MISSISSIPPI STATE* AUBURN 6 PM
APR. 10 SATURDAY MISSISSIPPI STATE* AUBURN 2 PM
APR. 11 SUNDAY MISSISSIPPI STATE* AUBURN 1 PM
Apr. 13 Tuesday at Georgia Tech Atlanta, GA TBA
Apr. 16 Friday at Alabama* Tuscaloosa, AL TBA
Apr. 17 Saturday at Alabama* Tuscaloosa, AL TBA
Apr. 18 Sunday at Alabama* Tuscaloosa, AL TBA
APR. 20 TUESDAY SAMFORD AUBURN 6 PM
APR. 23 FRIDAY FLORIDA* AUBURN 6 PM
APR. 24 SATURDAY FLORIDA* AUBURN 2 PM
APR. 25 SUNDAY FLORIDA* AUBURN 1 PM
Apr. 30 Friday at Georgia* Athens, GA 6 pm
May 1 Saturday at Georgia* Athens, GA 1 pm
May 2 Sunday at Georgia* Athens, GA 12 pm
MAY 4 TUESDAY UAB AUBURN 6 PM
MAY 7 FRIDAY LSU* AUBURN 6 PM
MAY 8 SATURDAY LSU* AUBURN 2 PM
MAY 9 SUNDAY LSU* AUBURN 1 PM
May 11 Tuesday at Samford% Hoover, AL TBA
MAY 14 FRIDAY TEXAS A&M* AUBURN 6 PM
MAY 15 SATURDAY TEXAS A&M* AUBURN 2 PM
MAY 16 SUNDAY TEXAS A&M* AUBURN 1 PM
MAY 18 TUESDAY NORTH ALABAMA AUBURN 6 PM
May 20 Thursday at Missouri* Columbia, MO TBA
May 21 Friday at Missouri* Columbia, MO TBA
May 22 Saturday at Missouri* Columbia, MO TBA
POSTSEASON
May 25-30 SEC Tournament Hoover, Ala. TBA
June 4-7 NCAA Regionals TBA TBA
June 11-14 NCAA Super Regionals TBA TBA
June 19-30 College World Series Omaha, Neb. TBA
LEGEND
* SEC game | $ Round Rock Classic played at Dell Diamond (Round Rock, TX) |^ Game played at Regions Field (Birmingham, AL) | # Game played at Riverwalk Stadium (Montgomery,AL) | % Game played at Hoover Met (Hoover, AL)
All times central and subject to change | Home games in BOLD