Auburn and Stanford leaders for 4-star DL
AUBURN | Ryan Johnson has two leaders and is getting close to a final decision coming off his official visit to Auburn this weekend.
The four-star defensive end from St. Paul's in Mobile, Ala., plans a final decision either Friday or Monday.
"Right now, since I've been to Auburn and Stanford, I'm going to say Auburn and Stanford. Those two are definitely my top two now," Johnson said. "Depending on how Texas and USC go."
Johnson visited Stanford Jan. 13 and isn't ruling out trips to Texas and USC this upcoming week. He has cancelled an official visit to Alabama the final weekend before Signing Day and said the Tide is no longer in contention.
He wants to complete all his official visits before making a decision.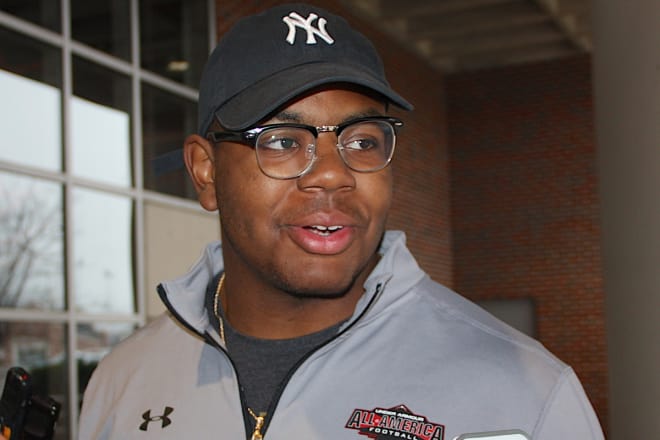 "I didn't want to jump the gun or anything. I've got to go home and write down pros and cons," Johnson said.
Johnson said he was accepted by Stanford Friday, which has made his recruitment much tougher.
"If that wasn't in the equation, then Auburn would be leading right now. It's hard," he said. "Right now, they're pretty even honestly. They're really good schools. I'm just trying to figure it all out."
Johnson has visited Auburn many times over the past few years.
"It's honestly crazy because they were my first offer, and I grew up an Auburn fan," Johnson said. "It's crazy how fast these two years went by, and they haven't really wavered. I always feel like a priority here."
This weekend was another good trip for Johnson, who said he hung out with a number of players including Tre' Williams, Deshaun Davis and Antwuan Jackson.
"It was great," Johnson said. "I got to spend a lot of time with the players and coaches and everything. I'm just happy to be back up here. I haven't been up here since a football game, so I loved it all."
Johnson, who measured 6-foot-3.5 and 247 pounds this weekend, will consider several factors when making a final decision.
"Somewhere I'm comfortable with. Somewhere, if I get hurt, I can see myself there taking regular classes, getting along with players and coaches. Somewhere with a winning program. Nobody likes losing, so I've got to go somewhere I can win," he said.
Johnson said Stanford coaches plan to have an in-home visit Tuesday and Auburn Wednesday.