Auburn among a 'select few' for elite WR
Four-star WR Tarik Black visited Auburn for a third time Saturday and left with the Tigers among his leaders.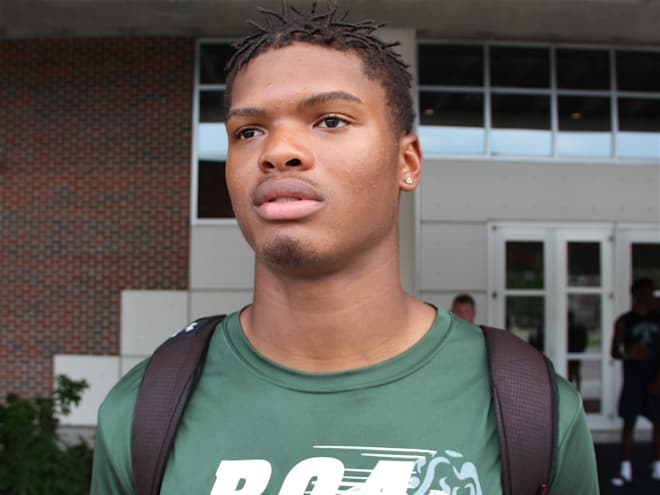 AUBURN | With more than 30 offers to his credit, Tarik Black has his choice of just about any top program in the nation.
The four-star wide receiver from Cheshire (Conn.) Academy does have a "select few in mind," but isn't ready to name them all.
Black did confirm Auburn, which he visited for a third time this weekend, is one those.
"They're in the select few," Black said. "Definitely the family atmosphere (stands out). I really like the coaching staff. They're real down to earth guys. That's a big deal."
And what about Notre Dame, a school he's also visited on multiple occasions?
"They're in the select few as well," Black said.
Black, 6-foot-3.5 and 206 pounds, participated in Auburn's skill camp Saturday afternoon, receiving a lot of 1-on-1 instruction from Gus Malzahn and receivers coach Kodi Burns.
"The camp went great," Black said. "I was glad to get to work with Coach Burns and get some advice and tips from Coach Malzahn. It was a great camp and the visit was great as well."
Black said he's developed a close relationship with Burns.
"Me and Kodi, we text each other a lot, we talk on the phone. We have a really good relationship. Ever since they offered me we've been developing a great relationship," Black said. "He's a young coach and pretty much went through everything I'm going through right now. He's very relatable and he's a great guy."
Malzahn and Burns had an important message to Black before he left.
"They just want me as an Auburn Tiger. They see me coming in and having an opportunity to play right away," Black said.
Black wants to make a decision before the start of his senior season on Sept. 17. He wants to go on a couple of official visits first and could return to Auburn the weekend of Sept. 3 for the Clemson game.
He said distance from home won't play a factor in his final decision.
"Family atmosphere, great coaching staff and just feeling comfortable (are the main factors)," he said.