A hidden gem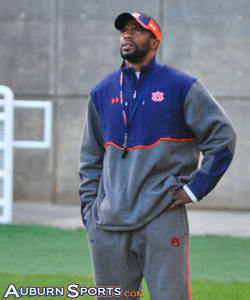 This is the third installment of a exclusive, multi-part series examining quarterback Nick Marshall.
GARDEN CITY, Kan. |
When Iowa Western Community College quarterback
Jake Waters
committed to Kansas State last December, coach Bill Snyder was elated.
Do not mistake that for satisfaction.
With the top-rated junior college quarterback in hand, Kansas State could have ended its search for a quick fix behind center. Instead, Snyder continued to woo Garden City Community College quarterback
Nick Marshall
, insisting that the job awaited him in Manhattan.
The notes, hand-written by Snyder himself, arrived dutifully via the GCCC fax machine every morning for two weeks leading up to National Signing Day. The message? Have the courage to change your mind. Do what's right for you. Don't be afraid to be your own man.
"He definitely wanted me there," said Marshall, who never considered signing with Kansas State after mid December. "They were cool, but that's not what I wanted. I came to Kansas to get away; I didn't want to stay in Kansas. That's the last thing on my mind."
The recruitment of Nick Marshall was, in a word, interesting.
He arrived with something of a reputation after being kicked out of school at Georgia and electing to change positions -- cornerback to quarterback -- during his Midwestern sojourn. Once he began exhibiting true dual-threat ability last September, a few sharp-eyed recruiters took notice.
His program at Arkansas State was in good hands with quarterback Ryan Aplin, but he was a senior in 2012. They needed a solution for 2013 and Malzahn, along with offensive coordinator
Rhett Lashlee
, immediately were convinced that Marshall was their solution.
There was one problem.
"They said they didn't think they had a chance for me," Marshall said.
They were right. Marshall had bigger schools on his mind and the numbers he was generating at GCCC, 287 passing yards and 100 rushing yards per game, demanded big-school attention. As the Broncbusters' season neared its conclusion, though, Marshall had only a smattering of scholarship offers in hand.
Kansas State was keenly interested. So was Arkansas State. Indiana, now home to Marshall's older brother, Antonio, offered a scholarship in October.
The lack of widespread attention wasn't confounding to GCCC offensive coordinator Matt Miller. The Broncbusters' head coach, Jeff Tatum, had elected to keep quiet about his players when talking with anyone outside his own program.
"He wanted to surprise the Jayhawk Conference," Miller said. "When recruiters would come in, he didn't talk a lot about Nick Marshall and (wideout)
Rodriguez Coleman
. It worked. People couldn't prepare all summer for the Kansas State, dual-threat, option guy who can throw the ball 80-plus yards down field. A lot of schools really didn't get on him."
The plan was a success; four of Garden City's seven wins came in September. Tatum then was able to parlay the Broncbusters' improvement -- they were 2-7 during the 2011 season -- into a job at his alma mater, Mississippi Delta Community College, less than a month after the season ended.
Marshall's plan changed as well.
Though he appreciated Kansas State's interest, he was waiting for something better to come along. Two things happened in December that would provide Marshall with the options he craved:
Texas quarterback Case McCoy, the Longhorns' heir apparent, was implicated in an alleged assault prior to the team's bowl game and suspended on Dec. 30. A day earlier, as coaches considered their next move, Texas offensive coordinator Major Applewhite called GCCC and offered Marshall a scholarship.
Malzahn was hired at Auburn and brought along Lashlee as his offensive coordinator. Though the duo didn't launch into full-scale recruiting work until after the addition of
Rodney Garner
and
Charlie Harbison
a few weeks later, they didn't need a coalition to understand Marshall's value to the Tigers. The Arkansas State offer instantly transformed into one from Auburn.
Still, Marshall was smitten with the Longhorns. He unofficially visited Austin on Jan. 6 and even tweeted a picture of himself and head coach Mack Brown, whom he humorously referred to as "Matt" Brown.
"I was going to go with Texas," he said.
Yet Texas soon backed down. Additional investigation into the alleged assault showed that McCoy hadn't engaged in illegal activity. He was reinstated on the night of Jan. 13, 2013.
Marshall learned that same night that the Longhorns no longer needed a quarterback since McCoy was back in the fray. The offer had been pulled.
Serendipity was on the Tigers' side.
Lashlee and new assistant
Dameyune Craig
, who'd recruited Marshall while at Florida State in 2010, already were on their way to make an in-home visit with Marshall in Rochelle, Ga. While there, the quarterback said he wouldn't be making an official visit to Texas on Jan. 18 as scheduled.
Instead, Marshall told them, he was headed to Kansas State.
"I looked over at Rhett and I was like: Oh, that's not good," Craig said. "We had to kinda get that done that night. If we'd have left there (without a commitment), I don't think we'd have seen Nick Marshall again. I saw that story before at Florida State. The last time I saw Nick, he said: 'I'll be back, Coach, I'm going to visit Georgia.' I didn't see him again."
Auburn received a conditional commitment that night, though Marshall insisted that he needed to sleep on the idea. Lashlee and Craig left reluctantly, but received word around 8 o'clock the next morning.
Marshall indeed was ready to choose Auburn. His commitment broke on Monday, Jan. 14.
As a bonus, he said his recruitment had ended with that promise. The daily dispatches from Snyder, complete with pleas for reconsideration, weren't enough to change his mind.
"He didn't waver at all," said Miller, the GCCC coach. "Even with Bill Snyder writing hand-written letters every day saying: You're my guy; you're my quarterback. They knew Nick was better than the guy they had coming in. They saw Nick being their starter. I just think Auburn was closer to home and had an offense that fit Nick really well. They got something every program is going to want."